Yonako Fudoson
Waterfall Meditation
(Takigyo)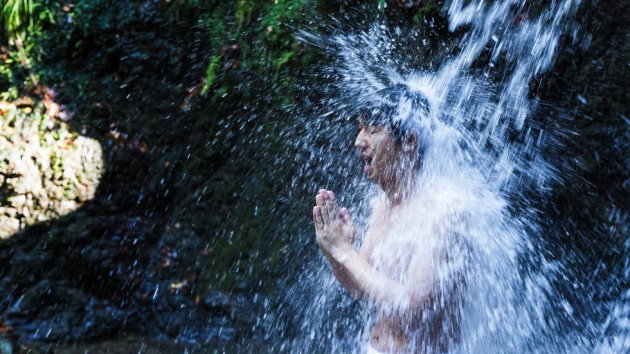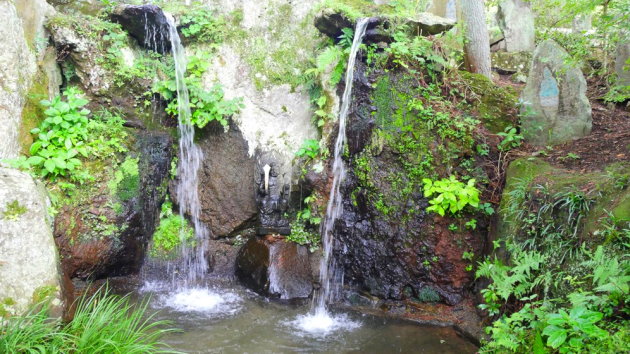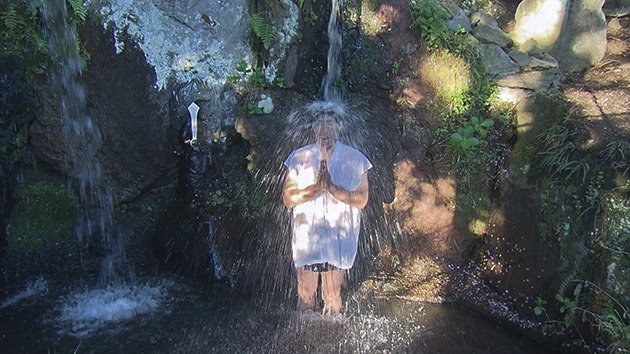 Takigyo is a form of ritual meditation performed by standing under a cold waterfall to achieve physical and spiritual purification.
The original spot where the people of our temple used to conduct this practice was the point of encounter of two natural waterfalls: Fudo Waterfall and Gongen Waterfall.
The original place of prayer is a point where the water of the two waterfalls falls from a height of 100 meters over the people who perform their meditation.
The artificial waterfall at our temple is a representation of this holy place. Note that since the waterfall has been constructed specifically to represent the original place of meditation, the experience is just as relevant.
The water of the artificial waterfall is the pristine and transparent mountain water of Suzaka City.
※ ATTENTION
We offer waterfall meditations at the artificial waterfall at our temple.
We guarantee supervision for waterfall meditation happening at the waterfall located inside the temple honbo only.
We strongly advise against conducting waterfall meditation at the original spot, especially for those who are not experienced.
The original meditation spot is far from our temple; therefore, we are only able to take people there on specific days in summer. We cannot guarantee our availability to take you to the original waterfall on regular days.
If you choose to go individually, do so at your discretion and on your responsibility.
Note that we decline all responsibility for theft, man-made disaster, natural disaster, injury, death, and all possible accidents happening at the original immersion spot or on your way there.
There are rare cases in which we grant special permission to attend the original waterfall in summer, only to experienced individuals.
FOR THOSE WHO WISH TO CONDUCT A WATERFALL MEDITATION AT OUR TEMPLE
If you wish to conduct a waterfall meditation a tour temple, reservation is required. We highly recommend making your reservation in advance.
You can ask for an appointment using the form below or by making a phone call.
Note that the waterfall is not a tourist attraction.
We require to perform the immersions at night. However, we make exceptions to accommodate visitors who come from distant areas.
Waterfall meditation takes place at 19:30 from April to September, and at 18:30 from October to March.
In case you need to arrange a different time, please contact us beforehand.
Before the immersion, our chief priest will provide you with guidance on how to perform the immersion.
We will inquire your motivation for performing the immersion before the meditation.
※ People visit the waterfall for different purposes, some examples are refreshing body and mind, stress relief, coming of age, in preparation of weddings, reconnecting to one's original nature, and some people practice immersions to get their prayers fulfilled as well.
Things to bring with you
・Men: white waist cloth
・Women a white shirt that won't turn transparent
・Shoes that you don't mind getting wet (you will enter the waterfall barefooted)
・A towel
・A change of clothes
※ If you wish to purchase or rent takigyo clothes,
  you can do so at the temple.
  Purchase: 5500 yen
  Rental: 2500 yen (up to 5 people per day)
※ If you have doubts on how to perform the immersion, feel free to ask
※ If you have particular health issues and are worried that the meditation could impact your health, you can bring your health certificate with you. We will make sure to shorten the length of your meditation. Rest assured that you will still be able to reap all the benefits of this meditation.
How to conduct waterfall meditation
 1. The fee of 10000 yen is to be paid at the reception before the immersion.
Entering the waterfall suddenly is dangerous, listen to the chief priest's advice for preparations and breathing before the immersion. (20-30 mins ca.).
 2. Change to your meditation clothes
 3. We will provide you with salt. Before entering the water, sprinkle the salt in three directions to signify the purification of your mind, body, and ritual space.
Before entering the waterfall bow three times to Fudo-Myoo. The priest will guide you through the process.
4. Sprinkle salt on your upper and lower body and enter the waterfall. Do not bring the container with you and do not throw salt (or any objects) into the waterfall.
 5. Bow once before entering the water.
 6. Before entering state your address, name, birthdate in front of Fudo-Myoo and say, "With permission, I will now enter the waterfall".
 7. Experienced practitioners can perform Kuji Goshin-bou (the nine hand gestures)
Proceed to enter the water in this order: right hand, right foot, left hand, left foot.
8. Use both hands to pour water on your chest
9. Enter the waterfall right shoulder first. Stand under the waterfall so that the water falls from your neck over your back. Do not put your head under the water.
10. Recite a mantra. We will assign you a mantra depending on your physical strength and level of experience.
The mantra for your first immersion is "Namu Fudo-Myoo" for 21 times
11. Exit the waterfall and bow once
12. If you did Kuji Goshin-bou close your Kuji Goshin-bou in front of Fudo-Myoo and express your gratitude.
13. Return to the locker room and change your clothes.
14. Rest in the temple living room and warm up.
Fee
10000 yen per person at a time
※Please cancel at least 3 days in advance.
※If you are not feeling well on the day of the meditation, we advise against performing it. In that case call us.
Booking
Book via phone call
026-245-0972
Reception time:9 am-5pm
Book by email
You can submit the form below.