Welcome to Yonako Fudoson
One of Japan's Three Great Fudosons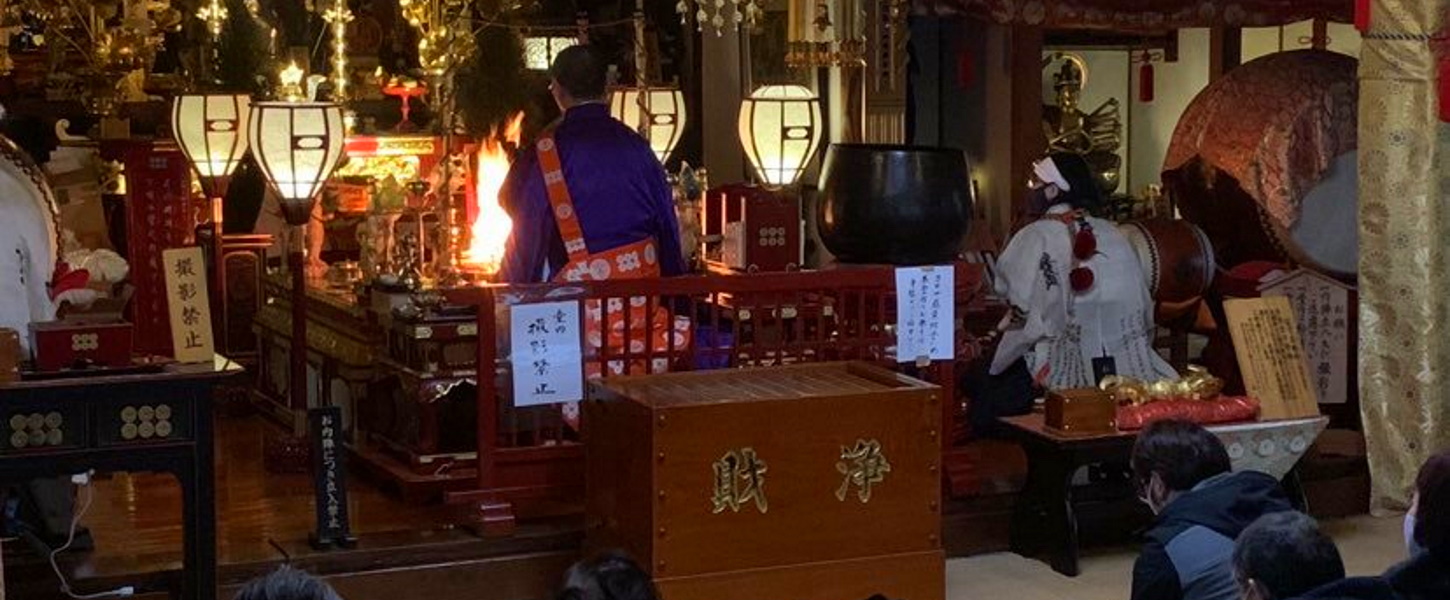 A guide to our temple
ORIGINS OF JAPAN'S THREE GREAT FUDOSON
Three statues of Fudo Myoo were created from the emperor's sacred tree, thus in this sense, they are siblings. One of the Fudoson is here. The other two are Narita Fudoson and Sugatani Fudoson of which you can find replicas inside the temple complex. The statue of Fudo Myoo is in the main hall, and it can only be seen by the public once a year.
Our temple complex has two parts: the Honbo and the Okunoin. Okunoin is the original location where the temple was founded, where Yonako falls are.
Okunoin is now only open to visitors from June 15 to September 15. The temple was later moved to the current location in Suzaka, which is the Honbo.
Guide to the Temple Honbo
This is the location where we hold Goma Fire Rituals, offer life advice, and practice waterfall meditation at the little artificial waterfall of our temple. Our temple is a space for individual prayer as well.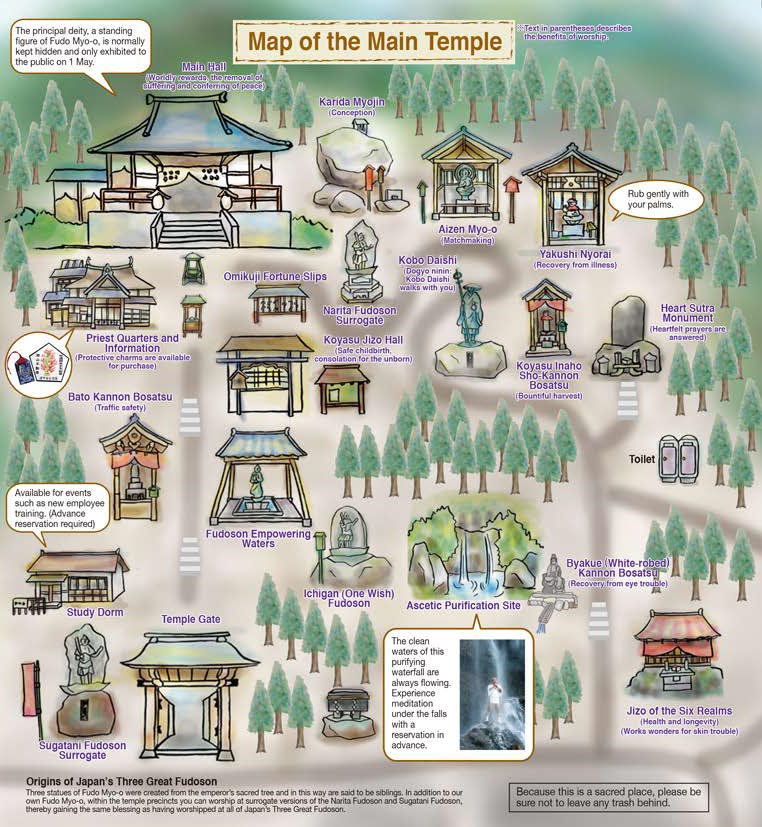 Access
To Yonako Fudoson(main temple) by train or local bus
By Car
To Yonako Fudoson Okunoin
By Train or Bus
・ For Tokyo Tokyo Shinkansen Kagayaki / Hakutaka / Asama = 1 hour 30 minutes-Nagano-Nagano Electric Railway = 30 minutes by train-Susaka
・ Osaka / Nagoya area Nagoya Chuo West Line = Limited Express 3 hours-Nagano-Nagano Electric Railway = Train 30 minutes-Suzaka
・ Kanazawa / Niigata area Naoetsu Shin-Etsu Main Line = Limited Express 1 hour 10 minutes-Nagano-Nagano Electric Railway = Train 30 minutes-Suzaka
・ From Suzaka Station to the temple:  Nagaden Bus (Suzaka City Bus) Yonago Line, get off at Yonako Fudoson (35 minutes). Departs at :01
By Car
・ Tokyo Kanetsu Expressway-Fujioka JCT-Joshin-etsu Expressway-Koshoku JCT-Approximately 25 minutes by car from Suzaka / Nagano Higashi IC.
・ Osaka / Nagoya direction Meishin / Chuo Expressway-Okaya JCT-Nagano Expressway-Joshinetsu Expressway-Koshoku JCT-Suzaka / Nagano Higashi IC about 25 minutes by car.
・ For Kanazawa / Niigata Hokuriku Expressway / Joetsu JCT-Joshinetsu Expressway-Approximately 25 minutes by car from Suzaka / Nagano Higashi IC.
* Parking lot available. Feel free to come by car, mini bus or sightseeing bus.
To Yonako Falls and the Fudoji Okunoin
・ Approximately 30 minutes by car from Satodo (Honbo). Another 20 minutes on foot.
・ The road is narrow, only regular cars can pass. (Jumbo taxis are allowed, microbus and sightseeing buses are not allowed) [Closed during winter]
* Private cars are not allowed during red leaves season, Saturdays, Sundays, and holidays.
A shuttle bus goes there from Yukkuland.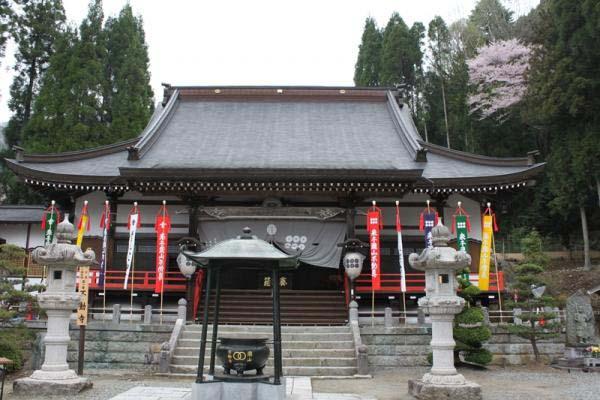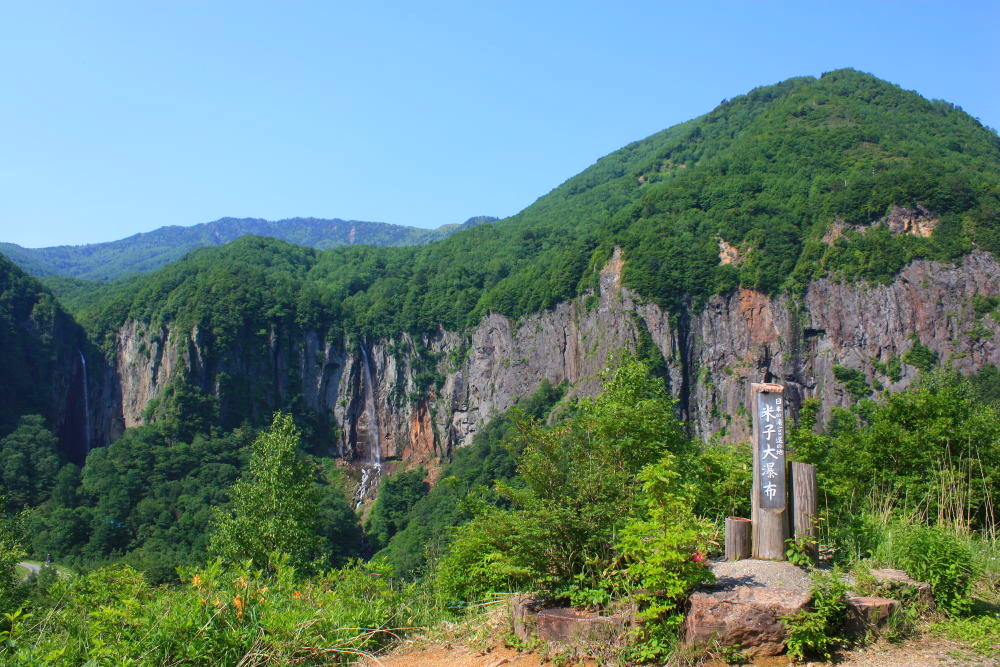 [Caution] Read Carefully
・For those coming with us to the original waterfall meditation spot Okunoin:
・Please note that we decline all responsibility for theft, man-made disaster, natural disaster, injury, death, and all possible accidents occurring at the original immersion spot, on the way there, on the road, or in parking lots.
・There have been no reports of bear sightings, but we advise caution.
・Respect nature and buildings, do not litter or damage the environment.
(Damaging buildings is illegal. Collecting alpine plants without permission is forbidden by the law).
・Dress and equip yourself appropriately for the hike to avoid injuries.
・Ice climbing is prohibited around Fudo waterfall and Gongen waterfall.
・It is strictly forbidden to fly a drone in the precincts without our permission.
For those who wish to perform waterfall meditation:
If you have a chronic illness, consult with your doctor.
If you are not feeling well, please do not force yourself and take the rest you need.
The temple is not responsible for any accidents occurring during waterfall meditation.
If you choose to perform it, do so at your discretion and on your responsibility.
If you violate any of the rules above we reserve the right to take legal action.

Temple information
Temple name

Yonako Fudoson Honbo Takizan Itokuin Fudoji and Okunoin

Address

1057 Yonako Town, Suzaka City, Nagano Prefecture 382-0023

TEL

026-245-0972

FAX

026-245-1187

E-mail

infononno@yonakofudoson.net

Religious denomination

Shingon-shu Buzan-ha

Main Entity

Fudo Myo-o (Standing statue, secret Buddha)
Open to the public only on May 1st every year for Yonako Fudoson Festival (Spring Festival)

Found

Shugendo monk Kiyosada (2nd year of Yoro, 718)

Restoration

Emperor Seiwa Fourth Prince Sadamoto (Sadayasu) Imperial prince (3rd year of Ninna, 887)

2nd Restoration

Kenshin Uesugi (4th year of Eiroku, 1561)

3rd Restoration

Shuei Takemae (8th year of Showa, 1933)

Thirty-seventh

Honorary chief priest Goshi Takemae
Chief priest Keishi Sanada(Keishi Takemae)